Future Recycling regularly completes complex major projects. We have the ability to recycle large volumes of materials as well as large cumbersome and obscure items.
CASE STUDY 1 - SITE CLEANS
Future Recycling was engaged to dispose of 680 tonnes of machinery, plant vehicles, waste and scrap metal.
The project took us two weeks to complete with works at 3 sites across Victoria

The project involved the use of excavators, semi-trucks and demolition professionals

We were able to complete the project safely, efficiently and at a cost benefit to our client
Machinery, plant vehicles, 3 x VIC sites
waste & scrap metal
3 x Victorian sites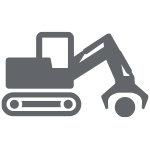 Excavators, semi-trucks
& demolition professionals
Future Recycling managed the dismantling of electrical transformers.
These transformers can weigh anywhere up to 100 tonnes

In order to complete the project safely and efficiently we employed the expertise of a utilities project manager

As we consistently operate in an open and honest manner we have become a trusted partner and an expert in the field of recycling transformers
Dismantling
transformers
Weight of each
transformer
Experienced Utilities
Project Manager
CASE STUDY 3 – SITE CLEAN
Future Recycling was recently engaged by a long-term customer to remove up to 60 tonne of scrap metal and obsolete machinery from their site.
At the end of the project we removed 432 tonnes from site

The project took 12 days to complete, and we employed the use of semi tippers, Frannas , Sennebogen and crane semis

During the course of works we dismantled and removed an old insulation oven

We were able to process this at our Dandenong facility and divert 80 tonnes of machinery from landfill
Moved with tippers,
Frannas, Sennebogen
& crane semis
12 days to complete
Diverted from
landfill
LET'S TALK
We'd love to hear about your next project and are happy to answer any questions.