PAKENHAM WASTE TRANSFER STATION
PAKENHAM TIP
At the Future Recycling Waste Transfer Station at Pakenham, material is sorted manually to recover the maximum reusable and recyclable content.
Our aim is to extract as much recyclable material as possible from waste streams to avoid landfill. We strive to provide a comprehensive service that is tailored to our business customers' needs, whilst being safe and innovative in our approach.
Strong partnerships are built through dedicated account management, quick turnaround times and providing efficient, cost effective solutions.
A leader in waste management
Watch now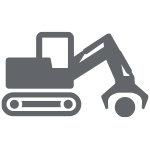 100,000 tonnes capacity
Waste diverted from landfill
Well-planned traffic flow
Annual 70% diversion from landfill

Investment in the latest equipment

Computerised public weigh bridge records volume and type of waste along with client details

Well-planned traffic flow by waste-stream ensures efficiency in delivery

Unloading service meets OHS requirements

Most waste types accepted including builders' waste, general waste, green waste and recyclables such as cardboard, car batteries and metals (including white goods and electronics)

Fees are charged according to the type of waste.

Additional charges apply for oil, tyres, gas bottles and bed bases / mattresses with springs

Some recyclables are accepted free of charge
To provide you with peace of mind we are accredited and certified AS/NZS 4801 Safety, ISO 14001 Environmental and ISO 9001 Quality.
Waste Streams
We accept all kinds of waste excluding asbestos and polystyrene. Waste is charged by the cubic metre.
Hard Rubbish

Commercial / Builders' Waste

Domestic / General Waste

Green Waste

Timber Waste

Bricks / Concrete
Soil

Glass

Cardboard

Plastic

Furniture

Metal (FREE)
Paint / Oil

Tyres

Gas Bottles

Car Batteries (FREE)

Mattresses/Bases
To see our Waste Transfer Fees click here or for further information on materials accepted let's talk, call 13 RECYCLING